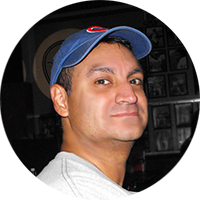 "Everything should be made as simple as possible, but not simpler."
Contact Me
Fox Rhythm Fork Setup
Sag should be set to 15 – 20% of total fork travel
34 FLOAT and Rhythm maximum pressure is 120psi/ 8.3 bar
To achieve the best performance from your FOX suspension, adjust the air pressure to attain your proper sag setting. Sag is the amount your suspension compresses under your weight and riding gear. Sag range should be set to 15–20% of total fork travel.
Unscrew the blue air cap on top of the left fork leg counter-clockwise to expose the Schrader valve. 
Attach a FOX High Pressure Pump to the Schrader valve.
Pump your fork to the appropriate pressure as listed in the 'Suggested starting points for setting sag' table below, then remove the pump.
Using your forks sag setting o-ring on the left upper tube (or temporarily install a zip tie to the upper tube), slide the o-ring (or zip tie) down against the fork dust wiper.
Rotate the 3-Position lever to the Open mode (the riders 1 o'clock position).
If you have a Remote fork, click the black release lever once to set the fork to Open mode.
If you have a Terralogic® fork, turn the blue Terralogic® threshold adjust knob fully counter-clockwise.

Dressed to ride (including a filled hydration pack, if you use one), position your bike next to a wall or table to support yourself. Mount your bicycle. Assume your riding position for at least 10 seconds, allowing the suspension to fully settle. Make sure you distribute your weight evenly between the saddle, handlebars and pedals.
While in your riding position, slide the o-ring (or zip tie) down against the fork dust wiper.
Dismount your bike without bouncing, to avoid further moving the o-ring or zip tie. Measure the distance between the dust wiper and the o-ring or zip tie. This is your sag measurement. Suggested sag measurements are listed in the table below.
Add or remove air pressure until your sag measurement is between 15-20% of your forks total travel.
Repeat steps 2-8 and recheck sag measurement.
When sag measurement is correct, screw the blue air cap on clockwise until snug.
Suggested Starting Points for Setting Sag
Rider Weight (lbs)
Rider Weight (kgs)
32 FLOAT Pressure (psi/ bar)
34 FLOAT and Rhythm Pressure (psi/ bar)
32/34 TALAS Pressure (psi/ bar)
120-130
54-59
66psi/ 4.5 bar
58psi/ 4.0 bar
98psi/ 6.7 bar
130-140
59-64
71psi/ 4.9 bar
63psi/ 4.3 bar
105psi/ 7.2 bar
140-150
64-68
76psi/ 5.2 bar
68psi/ 4.7 bar
113psi/ 7.8 bar
150-160
68-73
82psi/ 5.6 bar
72psi/ 5.0 bar
121psi/ 8.3 bar
160-170
73-77
87psi/ 6.0 bar
77psi/ 5.3 bar
129psi/ 8.9 bar
170-180
77-82
92psi/ 6.3 bar
82psi/ 5.6 bar
137psi/ 9.4 bar
180-190
82-86
98psi/ 6.7 bar
86psi/ 5.9 bar
144psi/ 9.9 bar
190-200
86-91
103psi/ 7.1 bar
91psi/ 6.3 bar
152psi/ 10.5 bar
200-210
91-95
108psi/ 7.4 bar
96psi/ 6.6 bar
160psi/ 11.0 bar
210-220
95-100
113psi/ 7.8 bar
100psi/ 6.9 bar
167psi/ 11.5 bar
220-230
100-104
119psi/ 8.2 bar
105psi/ 7.2 bar
176psi/ 12.1 bar
230-240
104-109
124psi/ 8.5 bar
110psi/ 7.6 bar
183psi/ 12.6 bar
240-250
109-113
129psi/ 8.9 bar
114psi/ 7.9 bar
191psi/ 13.2 bar
Suggested Sag Measurements
Travel
15% sag (Firm)
20% sag (Plush)
80mm/ 3.1 in
12mm/ 0.5 in
16mm/ 0.6 in
90mm/ 3.5 in
13mm/ 0.5 in
18mm/ 0.7 in
100mm/ 3.9 in
15mm/ 0.6 in
20 mm/ 0.8 in
110mm/ 4.3 in
17mm/ 0.7 in
22mm/ 0.9 in
120mm/ 4.7 in
18mm/ 0.7 in
24mm/ 0.9 in
130mm/ 5.1 in
20 mm/ 0.8 in
26mm/ 1.0 in
140mm/ 5.5 in
21mm/ 0.8 in
28mm/ 1.1 in
150mm/ 5.9 in
23mm/ 0.9 in
30mm/ 1.2 in
160mm/ 6.3 in
24mm/ 0.9in
32mm/ 1.3 in
Fox Rear Shock Setup Specs
| Rider Weight | Air Pressure | Shock Sag |
| --- | --- | --- |
| 100lbs (45.5kg) | 120 psi | 12-15 mm |
| 120lbs (54.4kg) | 145 psi | 12-15 mm |
| 140lbs (63.5kg) | 170 psi | 12-15 mm |
| 160lbs (72.6kg) | 195 psi | 12-15 mm |
| 180lbs (81.8kg) | 220 psi | 12-15 mm |
| 200lbs (90.7kg) | 245 psi | 12-15 mm |
| 220lbs (99.8kg) | 270 psi | 12-15 mm |
| 240lbs (108.8kg) | 295 psi | 12-15 mm |
| 260lbs (117.9kg) | 320 psi | 12-15 mm |
| 280lbs (127kg) | 345 psi | 12-15 mm |
My new Santa Cruz 5010 Carbon C
I spent a week in Colorado and Utah riding various rental bikes.  I tried the Santa Cruz 5010 C, Pivot Mach 5.5, BMC Speedfox 3, and a Devinci DJango.  All the bikes rode well, but the Pivot and Santa Cruz stood out as the most fun!  When I found an amazing deal on the Santa Cruz 5010, I had to go for it!
Here are the stock tech specs:
Frame: Carbon C chassis, tapered head tube, forged upper link.
Rear Shock: Fox Float Performance, 130mm
Fork: Fox Rhythm, 130mm
Headset: Cane Creek 10 series tapered, cartridge bearing
Wheels: WTB STP i23 TCS rims laced to Novatec D711 110x15mm front hub and Novatec D712 148x12mm rear hub w/ DT 14 gauge spokes, alloy nipples
Front Tire: Maxxis Minion DHF EXO 27.5×2.3, Tubeless Ready
Rear Tire: Maxxis Crossmark 2 27.5×2.25, Tubeless Ready
Cassette: SRAM XG1150, 10-42t, 11-speed
Chain: SRAM PC1110, 11-speed
Rear Derailleur: SRAM NX, 11-speed
Crankset: Race Face Aeffect, 32t
Shifter: SRAM NX
Brakes: SRAM Level T with Avid Centerline 180mm Rotors
Handlebars: Race Face Ride 760mm, 35mm clamp
Stem: Race Face Ride
Saddle: WTB Volt Race
Seatpost: Race Face Ride
Grips: Santa Cruz Palmdale Lock-on
Weight: 29.43 lbs
Show up to the party.
Santa Cruz's mid-2016 revamp of its much-loved 5010 saw it come back longer, lower, and slacker than its 1.0 predecessor for confident handling on bigger lines than you thought possible. The 2017 Santa Cruz 5010 2.0 Carbon S Complete Mountain Bike sees those updates extended into this model year with an outfit of SRAM GX componentry, hydraulic brakes, and 130mm of smooth front and rear travel to carry big speed through gnarly terrain.
The redesign that unveiled the 5010 2.0 is so pervasive that it touches on virtually every important frame dimension, with the biggest change coming in the head tube angle. The front end slacks out a full degree, dropping from 68 to 67 in a move that brings it in line with the previous Bronson model. The frame's reach and bottom bracket follow suit, with the former stretching out and the latter dropping slightly. Capping things off with a short stem helps preserve steering while taking advantage of that slack aggression.
The rear triangle tightens up for more pedaling efficiency and cockpit versatility with a steeper, longer, and wider seat tube, which benefits both the ups and downs of all-mountain riding. While grinding over the crux of a climb or crushing speed on singletrack, the steeper angle nets a more efficient pedaling posture, making it easier to stay on top of the pedal stroke. The new seat tube also accommodates a longer dropper post, giving more freedom for saddle height on descents. While climbing, stubbier chainstays contribute to transferring power more efficiently, and Boost axle spacing maintains a stiffer wheelset.
The Virtual Pivot Point 3 (VPP3) also got hit by the redesign hammer. Where the old suspension curve described a deep "U," VPP3's curve resembles a flattened check mark, with less dramatic ramping at either end of the travel arc. The results are that, during the initial stroke, VPP3 boasts increased small bump compliance to keep the tires glued to the trail for more traction across lumpy trail and root lattices. It also maintains its predecessor's firm feel during accelerations while jockeying for position in a mass start or a finishing sprint. When paired with FOX's Evol air can, the ramp-up arc doesn't dramatically alter as the shock compresses. The pedaling platform stays consistent across travel, with less wallowing, bob, and bottom-outs, even while the axle's path turns rearward as travel increases to absorb big hits. Santa Cruz's Carbon C frame construction remains unchanged, so the 5010 2.0 enjoys the same durability and stiffness of previous generations. Santa Cruz uses a single layup for both triangles instead of a jigsaw puzzle of individually-cured carbon tubes, allowing engineers to wrap the bracket. The continuous wrapping strengthens the frame and dissipates the force from impacts. Compared to building with individual tubes, the advantages of Santa Cruz's construction methods go some way toward mitigating the differences between Carbon C and the more expensive Carbon CC models.Despite that extensive list of changes, most of the obsessive details that we've come to associate with the clean lines and understated aesthetics of Santa Cruz frames carry over. These include down tube and chainstay protectors, ISCG-05 tabs, and the 73mm threaded bottom bracket shell. It's impossible for us to overstate how much we love threaded bottom brackets. As advanced as Santa Cruz's Carbon CC construction has become, even it can't produce molded bottom bracket PressFit cups that rival the precision of CNC-machined threads. A threaded bottom bracket adds a touch of weight and the extra labor is reflected in the price, but we think the reduced creaking and greater durability are worth it.
Well-balanced trail bike with 130mm of VPP3 suspension
Updated geometry is slacker, longer, and lower
C-level carbon frame provides high levels of stiffness
130mm front and rear travel for supple trail manners
SRAM GX 1×11 drivetrain with Raceface Aeffect 32t crankset
Santa Cruz blends cutting-edge design with timeless aesthetics
Geometry Chart
5010 2.0
Seat Tube

(c-t)

Effective Top Tube

(eTT)

Stack

(S)

Reach

(R)

Stand Over
Head Tube

(HT)

Head Tube Angle

(HT°)

Seat Tube Angle

(ST°)

Bottom Bracket Height

(BBH)

Chainstay

(CS)

Wheelbase
S
15.6in
22.6in
23in
15.9in
27.9in
3.9in
67°
73.8°
13.1in
16.7in
44in
M
16.5in
23.5in
23.4in
16.7in
28.2in
4.3in
67°
73.8°
13.1in
16.7in
45.9in
L
17.7in
24.4in
23.7in
17.5in
28.3in
4.7in
67°
73.8°
13.1in
16.7in
45.9in
XL
19.5in
25.7in
24.1in
18.7in
28.8in
5.1in
67°
73.8°
13.1in
16.7in
47.2in
My Current Ride: 2015 Salsa El Mariachi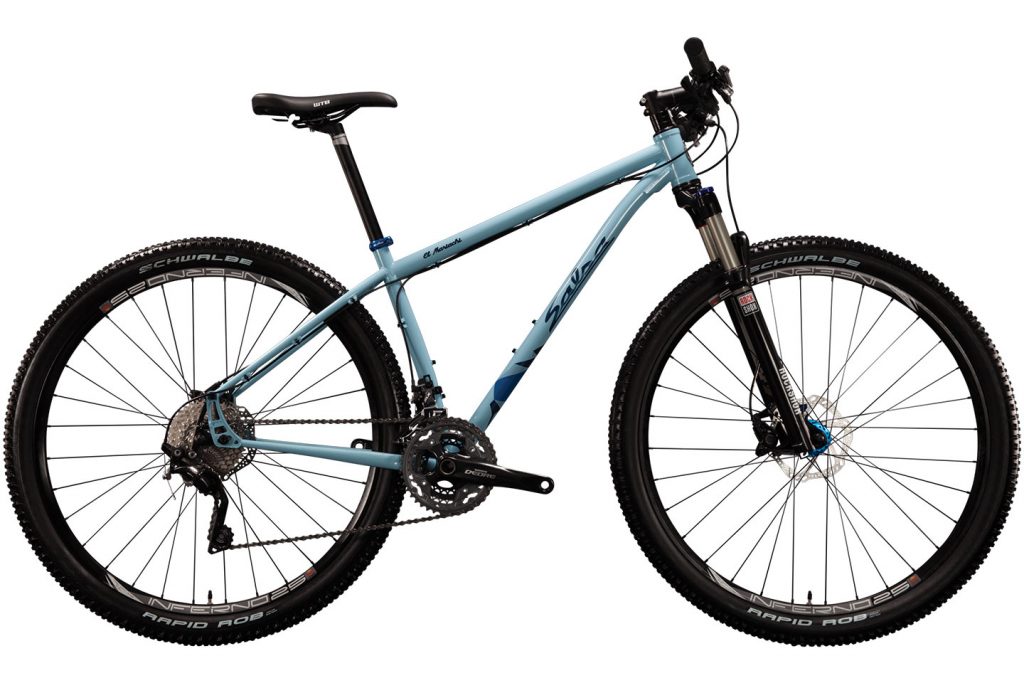 First Ride Impressions
I was lucky enough to be able to 'ride before I buy' on this bike, and by ride I mean  2+ hours on some nice single track trails!   As I was just getting the idea of jumping back into mountain biking after many, many years away I wanted to ease into it.  A friend had this spare Salsa and gave me the chance to see if I wanted to get back into biking.  Well it was almost instant love with this bike.  Being older, and less daring(or more cautious) than in my younger years, I took to this bike like the proverbial fish!  Within a short time on the trail to get used to the bike, I was instilled with more confidence than I would have expected from a new bike.   It was a dream, forgiving yet very predictable handling, smooth gearing, and hill climbing like it was late for dinner!  The frame is Cro-Mo and I would say it is not as stiff as aluminum and not as flexy as Titanium, but close I'd say by the seat-o-meter.
Frameset
Frame
El Mariachi 3 CroMoly w/Alternator Dropout
Color
Light Blue
Fork
RockShox Recon Gold, Tapered, 9mm Axle
Drivetrain
Front Der
Shimano Deore
Rear Der
Shimano XT Shadow
Cassette
Shimano Deore 11-36, 10-Speed
Chain
KMC X10
Crankset
Shimano Deore Triple, 22/30/40t
Components
Headset
Cane Creek 10
Stem
Salsa Guide Stem
Handlebar
Salsa Salt Flat, 11-degree, 700mm
Grips
Salsa Backcountry
Shifter
Shimano Deore
Front Brake
Shimano M445
Rear Brake
Shimano M445
Brake Lever
Shimano 445 Hydraulic
Rotors
Shimano RT54 160 front/rear
Seatpost
Truvativ T20 offset
Saddle
WTB Volt
Wheels
Front Hub
Shimano Deore
Rear Hub
Shimano Deore
Spokes
DT Swiss
Rims
Sun Inferno 25
Tires
Schwalbe Rapid Rob 29 x 2.25″
Bike Price
MSRP (USA)
Complete Bike
$1,699 (Spring Sale! $999 as of 3/25/2016!)
Component Specs
Frame
2015 El Mariachi 3
Wheelsize
29″
Tire clearance
Designed for 29 x 2.4″ tire
Fork
Designed for 100mm travel 29'er suspension fork
Headset-Upper
1-1/8″ Zero Stack (ZS44/28.6)
Headset-Lower
For Tapered: 44mm External Cup (EC44/40)
For Straight: Zero Stack (ZS44/30)
Seatpost
27.2mm
Seat Collar
30.0mm. Salsa Lip-Lock included
Front Derailleur
Problem Solvers Direct Mount clamp included, High Direct Mount Front Derailleur
Bottom Bracket
73mm BSA, threaded
Crankset
Compatible with 1x, 2x, and 3x mountain cranksets; Max chainring sizes 1x (32T), 2x (42/28T), 3x (44/32/22T)
Rear Brake
51mm I.S., minimum rotor size 160mm, maximum rotor size 180mm
Rear Spacing
Alternator Dropouts, Mulitple Configurations: 135 x 10mm QR; 142 x 12mm Thru-Axle; 135 x 10mm Rolhoff
Bottle Mounts
1 per frame on XS/S; 2 per frame on M/L/XL
Derailleur Hanger
Replaceable Alternator plates. Driveside QR Geared FS1312. Driveside QR Singlespeed FS1318. Non-driveside QR FS1313. Non-driveside Rohloff FS1331. 12 x 142mm Thru-Axle FS1330
Cable Routing
Full housing, under toptube
Frame Weight
XS 2415g, SM 2350g, MD 2410g, LG 2490g, XL 2580g
Color
Light Blue
Bike Sizes
| Size | X-Small | Small | Medium | Large | X-Large |
| --- | --- | --- | --- | --- | --- |
| Recommended Rider Height | 5'2″ – 5'6″ | 5'5″ – 5'9″ | 5'8″ – 6'0″ | 5'11" – 6-3″ | 6'2″ – UP |
| A. Toptube Effective | 22.2″ | 22.8″ | 23.6″ | 24.4″ | 25.0″ |
| B. Seat Tube Length | 14.0″ | 15.0″ | 17.0″ | 19.0″ | 21.0″ |
| C. Headtube Angle | 71° | 71° | 71° | 71° | 71° |
| D. Seat Tube Angle | 74° | 73° | 73° | 73° | 73° |
| E. BB Drop | 2.4″ | 2.4″ | 2.4″ | 2.4″ | 2.4″ |
| F. Chainstay Length | 16.9 – 17.6″ | 16.9 – 17.6″ | 16.9 – 17.6″ | 16.9 – 17.6″ | 16.9 – 17.6″ |
| G. Headtube Length | 3.5″ | 3.7″ | 3.9″ | 4.3″ | 4.7″ |
| H. Fork Length | 19.0″ | 19.0″ | 19.0″ | 19.0″ | 19.0″ |
| J. Fork Offset | 1.8″ | 1.8″ | 1.8″ | 1.8″ | 1.8″ |
| K. Wheelbase | 41.4 – 42.1″ | 41.6 – 42.2″ | 42.4 – 43.0″ | 43.2 – 43.8″ | 43.8 – 44.4″ |
| M. Stack | 23.2″ | 23.4″ | 23.6″ | 23.9″ | 24.3″ |
| N. Reach | 15.6″ | 15.7″ | 16.4″ | 17.1″ | 17.6″ |
| P. Standover | 26.9″ | 27.8″ | 29.3″ | 30.8″ | 32.4″ |